Episodes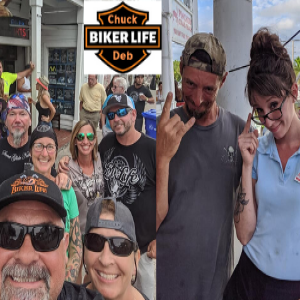 Thursday Nov 21, 2019
Thursday Nov 21, 2019
In this episode of Biker Life with Chuck & Deb you hear from author Dutch Van Alstin in his Raw and Unapologetic segment which actually keeps this show on the air.
Chuck & Deb talk about their ride to Key West with the West Coast Florida Riders. You'll hear how these two repelled fellow bikers right from the get-go. It's amazing these two came back from Key West alive. When you hear the stories, you'll be amazed that these two weren't just left on the side of the road to rot. This is one episode that will keep you wondering how these two jokers are even considered bikers.
Special thanks in this Episode are given the the West Coast Florida Riders, The Bikers Who Attended The Key West Giveaway and to The Fran Haasch Law Group who sponsored the event. Thank you all!
Subscribe and Share with your Friends
Follow us on:
https://www.facebook.com/ChuckNDebShow/
https://www.youtube.com/chuckndebshow
http://www.BikerLifePodcast.com
Listen On 1490 AM WWPR Bradenton, Sarasota, Tampa - Every Wednesday at 4PM EST.
All Rights Reserved Copyright 2019 Biker Life Network - Biker Life with Chuck & Deb
Chuck & Deb Show™ - Biker Life Radio™ Biker Life Podcast™